Improve Your Time Management 
We live in a world governed by the clock.  
On a purely practical level, 'time' enables us to organize our lives.  
Better management enables us to do that more efficiently and effectively so we feel more freedom and less pressure
This site will help you manage the practical elements of your present life situation - your commitments, appointments, tasks, goals and dreams.
Sometimes, it's a question of doing things more efficiently.  In other situations you may want to learn how to do things more effectively.  And then, of course, there will be times when you will want to reflect on whether or not you should even do something at all...
The tips, techniques and strategies on these pages are offered with real solutions and practical application in mind. There's no 'fix all' formula - life's not as simple as that.
Instead, use this site to improve, tweak and refine your skills. Come back to it to motivate yourself - maybe even 'pay it forward' and help other people improve their time management, too.
Bookmark this site, then come back to get maximum value out of the regularly updated content here. Some ideas will make sense immediately. Others may take a bit longer to digest. The key is to read and apply. Do that and you will get better results.
Time passes, and you can't do much about that. What you can do is make the most of this day.
This site is dedicated to helping you do that.
"Where should I start?"
Anywhere! All the articles and downloadable resources are free and can be used independently.  Click on one of the topics above. although a useful starting point would be this article.
Whether you are at work, in education or at home, the focus is very much on helping you to improve your personal skills. Each page is written with timeless principles in mind; ideas that will be relevant today and in the years to come.
Use whichever one is most appropriate to you right now. Either click on the navigation buttons up on the left, or use the site map to get pick an area of interest to get started.
Or, if you prefer, Time Management Success can come to you! Get my free monthly newsletter delivered straight to your inbox.
Every issue has uniquely valuable tips and techniques to help you improve your skills and habits.  The articles in the TMS ezine contain exclusive content that you won't find on this site, so sign up for insights, announcements and offers.
Plus I'll also send you a complimentary copy of Tame Your Inbox! to help you do just that!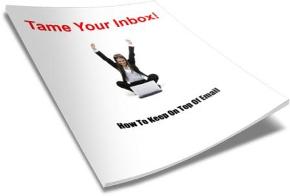 Sign up below for monthly personal time management tips.  It's free, and you can unsubscribe at any time.