You'll Love This Time Management Game!
Home

›
Activities
› Time Management Game
'Castles' is a game of strategy. It's simple to learn, great fun to play, and suitable for all kinds of groups, from school children to corporate teams. And the best part? You play it outdoors in the fresh air, whatever the weather!
I've taught this time management game to thousands of people of all ages and they always say the same thing:
"We love playing Castles!"
Here are a few players' comments:
"It makes you work as a team"
"You have to decide what matters and then do it at the right time"
"One word - AWESOME!"

Deciding what to do and then doing it is what managing time (and life) is all about. Castles condenses those decisions and actions into a game that improves your ability to do both.
How to play Castles:
Castles is a strategical time management game in which teams have to enter opposition territory to win a prize whilst defending what they've already got.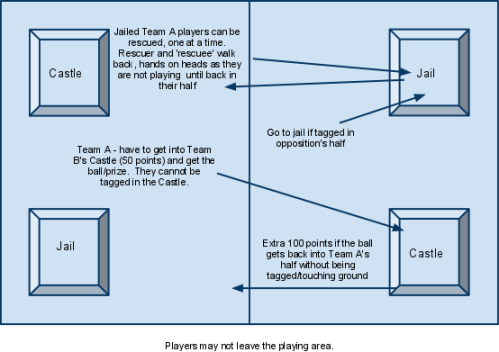 You will need:
A grass covered playing area
Markers to define the castles, jails, halfway line and boundaries
Team shirts to identify players from both sides
Two balls, one for each castle
Objective:
To get into the opposition's castle (50 points) without being tagged in the opposition's half and therefore sent to their jail.
If a player is jailed, his/her teammates can attempt to get to the jail (without being tagged or they will be jailed as well) and release one player at a time. Both players walk back into their own half.
Once in the castle (which is safe), the second 'bonus' objective is to return the ball back over the half way line without being tagged or dropping the ball.
If successful - 100 extra points and start a new game. If unsuccessful - re-set and start a new game.
To encourage a 'result' you can impose a time limit.
Rules:
Players can be tagged once they are in the oppositions half.
The opposition's castle and jail are 'safe' i.e. players cannot go into the jail/castle in their own half, so once opposition players are in there, they are technically safe as the defending team may not enter.
Once inside the castle, players can stay there as long as they wish.
Players may release one team mate at a time from the opposition's jail.
Players may not leave the playing area.
Tips and Strategies:
Try to gain a numerical advantage by putting several opponents in jail.
Entice players over the half way line by standing further back and/or as far away from your own castle as you dare.
Be prepared to make individual sacrifices - the team that plays as a team will win.
The best way to enjoy it is to give it a go. Learn by doing - with each game you'll get better and better.
Afterwards, encourage the players to reflect on their decisions - what was good and what could be improved?

Want to Improve Your Time Management?
Check Out My E-book and Learn How to
Free Up More Time For You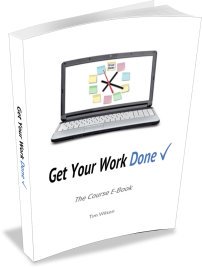 ---
Back to the top of Time Management Game