May 10, 2018
7 Ways To Improve Your Time Management Skills Starting Today
Want to improve your time management skills? What this is really about is improving your ability to decide what to do and then to do those things. Let's boil it down to what will have the most impact for you right now...
Continue reading "7 Ways To Improve Your Time Management Skills Starting Today"
*  *  *
Want Time Management Success to come to you?
Get my free monthly newsletter delivered straight to your inbox.

Every issue has ideas, tips and techniques to help you manage your time more effectively.

Sign up below. They're yours for free, and you can unsubscribe at any time.
I'll also send you a free copy of Tame Your Inbox in 10 Minutes to help you do just that!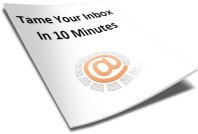 ---