A Day in the Life of Dan Berry
Senior Teacher at a Secondary School in Cambridgeshire, England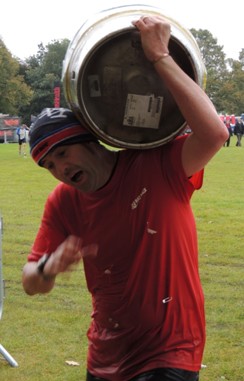 I work on the principle that time is more valuable in the morning than at night.
This is particularly true for me when it comes to sleep. I am up at 6.30am and I am usually out of the door by 6.45am. I know I should have breakfast but that extra 15 minutes makes a difference, especially towards the end of a long term.
My aim is always to be at my desk by 7.30am, I developed this habit at my first school where I was faculty leader for Science and Maths. I found that I was rarely disturbed before 8.40am so was able to get a clear hour or so of work done before the teaching day began.
This also had an impact on how I approached the day, as I was able to put a couple of ticks against my 'to do' list and thus at least feel like I had achieved something. It is all about a positive outlook and being able to work early sets my tone for the day.
As a busy senior leader, the hardest thing I find is that I never seem to finish my list, as such I always know what I need to be doing before I get in. 
A combination of remote access to the school network and mobile phone technology means I always have access to work. I still haven't made a decision about whether this is a good or bad thing yet! Answers on a postcard to...
Work is always a mixture of lessons, meetings and data work. In my current role I have responsibility for data and assessment for the school, but due to maternity cover I also have oversight of the SEN and sixth form areas.
My first daily meeting is an informal meeting with the Special Educational Needs team. This is purely operational where we ensure that we can cover the students needs based on staffing levels.
I am fortunate that I have an amazing mother and son team that have a huge amount of experience in the school.  More often than not I am a passenger at that meeting.
From there it is straight onto the Senior Leadership Team morning briefing where we share the main points for the day and decide on any immediate actions based on staffing levels or key points for the day. Staff briefing follows after a prayer, which is a wonderfully calming start to the day.
If I am on assembly rota, then it is a mad dash to ensure that the infrastructure and students are  ready, I am much calmer about this these  days having had a computer crash as the students were filing in for assembly – that was my worst case scenario and I coped!
On average I have one or two lessons a day, out of four in our school day. I have come to look forward to this as it is the highlight of most days -- it is the reason I started after all.
I teach science and love the idea of learning by discovery.  It is so much easier to just show the students but my philosophy is that I would much prefer the students to 'join the learning dots' it is so much more satisfying for me and much more interesting for them.
More meetings follow (I have a meeting a day usually) which allow me to disseminate any relevant information but more importantly, they allow my team to keep me up to date with their various concerns and successes. It is so important that we share and celebrate the successes in a school, the nature of which sometimes means we forget.
There are not too many jobs where you are so closely ruled by time, I was amazed when I moved from research to education just how structured the day became. In such a structured day you are always compelled to move on to the next lesson forgetting that reflection is so important for personal and professional progression.
I am often reminded of William Blake's famous words:
'What is this life if full of care, if we have no time to stand and stare..'
I like to get out at lunchtime and support the midday supervisors. This is not wholly altruistic as it allows me to get to know the students outside of a lesson environment and have more informal conversations (a great help in some difficult 'in classroom' situations).
It also gets me out of the office and into the fresh air. Sometimes in winter we can all feel like we never see the sun (well, grey sky!).
One lesson after lunch and I am 'on call' which requires me to either collect or look after any students who have been temporarily removed from their classes. This usually involves me trying to ascertain the facts. Sadly the conversation is reasonably consistent starting with...
"So Barry why are you here?"
"I don't know int it! The teacher just sent me out for no reason. She/he always picks on me!"
"Well Barry. I am sure that is not true. Why don't you tell me what happened in your words and we can start from there?"
"You won't believe me. You lot always stick together."
"That's not true, why don't you try me? What did you not do to get sent out?"
"I was just singing/throwing a pencil for Dave/taking my coat off when I hit Brian/talking*" delete as appropriate.
"Right then Barry, so you were doing something"....
I am sure you all know the types of conversations.
After school is either detention, staff training or Senior leader meetings which are either a pain and joy or a lot more things on the 'to do list' depending on which one it is (you can decide) then before I finally head off home I formulate my tomorrow 'to do list' and plan my diary.
I am fortunate to have a very understanding wife at home so I can work late and come home to see my children. I try to be home before 7.30pm but I am ashamed to say I rarely make this target in the week, so it is massively important to me that I spend as much time with them at the weekends.
I still get to help with homework and chat during the week but if I could change anything I would definitely add couple of hours in the evening to relax with the family.
I try and work to a no surprise mentality, I like to be well prepared for my day, but schools being schools we rarely have a day when everything goes to plan.
It is this aspect of leadership that I find most rewarding, being able to respond to the daily issues that arise and knowing that I will have had a positive impact on many young people's lives. Still when all else fails, I do like a good list!
What is your day like?  Share it here.
*  *  *
Want Time Management Success to come to you?
Get my free monthly newsletter delivered straight to your inbox.

Every issue has ideas, tips and techniques to help you manage your time more effectively.

Sign up below. They're yours for free, and you can unsubscribe at any time.
I'll also send you a free copy of Tame Your Inbox in 10 Minutes to help you do just that!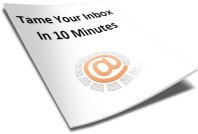 ---
Home

›

A Day in the Life of

› Dan Berry