Calendar On My Wall
by Michelle
(Lethbridge)
I write all important appointments and items I want to remember on my calendar on my kitchen wall.

Every morning I look at it because I cross out the day before, and see what appointments I have for that day.

Tim's comments:

This may be a short and to the point example of day to day time management, but it raises a number of interesting issues.

Firstly, the simple act of writing things down means they are more likely to get done, particularly if you are in the habit of looking at your diary or calendar.

By putting it on paper (or digitally if that's how you do it), you make a more solid commitment. That doesn't mean it will get done -- you still have to take the necessary action -- but lists do help you to remember to do what matters.

Secondly, you mention that you keep your calendar on your kitchen wall. (By the way, I do the same thing.) Is that because it's a part of the house you're frequently in?

Whether we're at home, at work or on the road, the principle applies -- the easier something is to get hold of, the more we'll use it. Your most used time management tools are most effective where you can get to them quickly and easily.

Thirdly, you refer to both appointments and items (tasks). Do you put both on a calendar? It can be helpful to keep tasks and appointments separate (but, hey, each to their own).

A task diary is a good way to make a date specific 'closed' or limited daily list of things to do.

I try to follow the 'Do It Tomorrow' principle -- tasks that come in one day get done the next, meaning you only ever do one day's worth of work (i.e. the previous day's).

It doesn't always work that way -- some things need doing urgently -- but it works most of the time by imposing a bit of order on things that crop up randomly.
Return to Time Management Tools.
*  *  *
Want Time Management Success to come to you?
Get my free monthly newsletter delivered straight to your inbox.

Every issue has ideas, tips and techniques to help you manage your time more effectively.

Sign up below. They're yours for free, and you can unsubscribe at any time.
I'll also send you a free copy of Tame Your Inbox in 10 Minutes to help you do just that!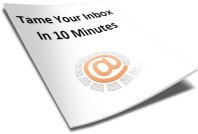 ---