Subscribe to Time Management Success
Home

›
Newsletter
Time Management Success will help you really make the most of your time so you can have do, be and have more of what matters to you.
Direct to your inbox each month, this free monthly newsletter will help you identify what really does matter to you and how to do it well.
You'll also receive a free complimentary copy of Tame Your Inbox, a mini-guide to managing your email messages.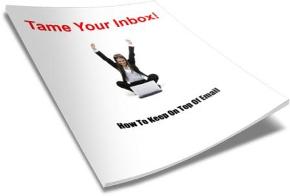 This free mini-guide takes ten minutes to read but it will save you a heck of a lot more time than that! 
If your inbox seems to be constantly 'full' or you've got a backog of messages to get through, you'll learn a quick and easy way to deal with everything.
Get practical and effective time management tips free in each monthly copy of the Time Management Success newsletter.
We'll look at how you can...
Manage your time at work effectively and know the reasons for doing so
Learn tips and techniques to get the things that matter started and finished
Make more time for yourself to spend more time doing what you really want to do
Achieve a better work-life balance
Sign up in the box below to get yours.
Subscribing is safe and simple. Fill in your name and e-mail address here:- 
Your information is 100% secure. I will not sell or give away your e-mail address, and you can unsubscribe at any time.
When you sign up you will receive an e-mail asking you to confirm your e-mail address to be sure no one submitted it without your knowledge. This page will also contain a link to your free copy of Tame Your Inbox, which is yours to keep whether you decide to stay subscribed or not. The next monthly newsletter issue will then be delivered directly to your e-mail address.
Back to the top